Nabeel AQ writes a thread on Imran Khan / PTI's two year performance report – published on Twitter on 20 July 2020
---
The struggle against COVID-19 in Pakistan is going to touch 6 months. We have lost precious lives in this time & have saved lot more. PM Imran Khan's vision to combat the pandemic now stands as an applauded recommendation by @UN & @WHO, but this wasn't always the case…(1/n)
2) The testing efforts caught pace from March and the govt. was quick to take some bold decisions. PM Imran Khan had been advocating smart lock down long before anyone else, simply because our economy can't support the poor and the homeless. But, this thought was opposed…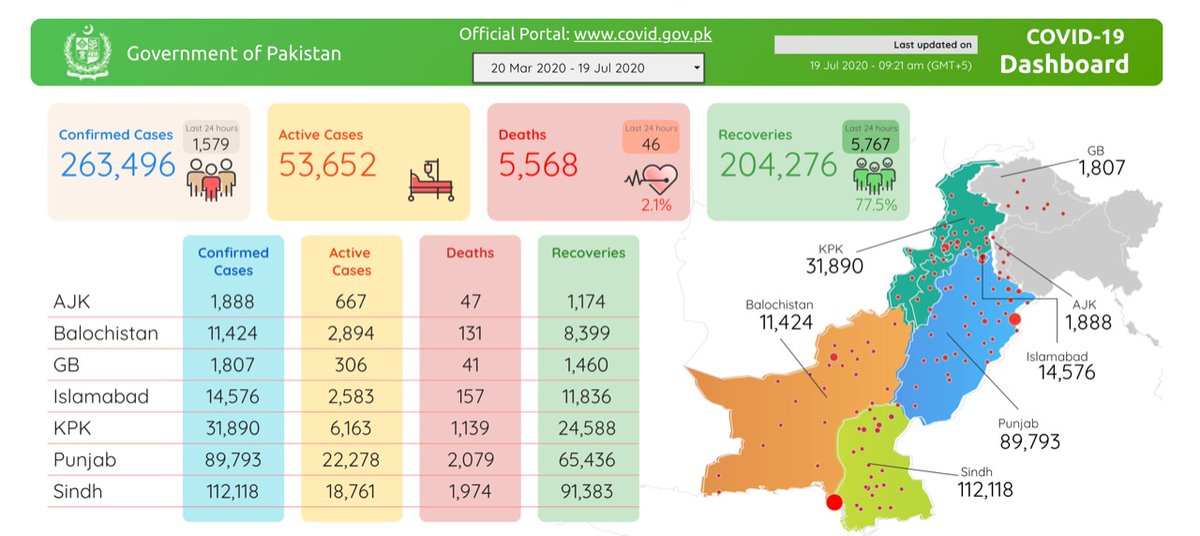 3) Punjab kicked off the response by turning public sector hostels into quarantine centers, announcing a 1000 bed hospital, setting up a 6000 person quarantine center in Multan, and running a mobile awareness campaign through bikes & rickshaws… @UsmanAKBuzdar @Dr_YasminRashid
4) As of now – 263,496 confirmed cases have been reported in Pakistan with 5,568 unfortunate deaths.
In India the death toll stands at 26k+ and in USA at 142k+.

Despite relatively weaker economic and social conditions, the government has fared well.
5) The question is, what has the federal and provincial governments done collectively since March to bring Pakistan to a hopeful place in under 6 months?
Let's take a quick look at what the NCOC did and how @GOPunjabPK @SindhGovt1 and @KPGovernment followed suit.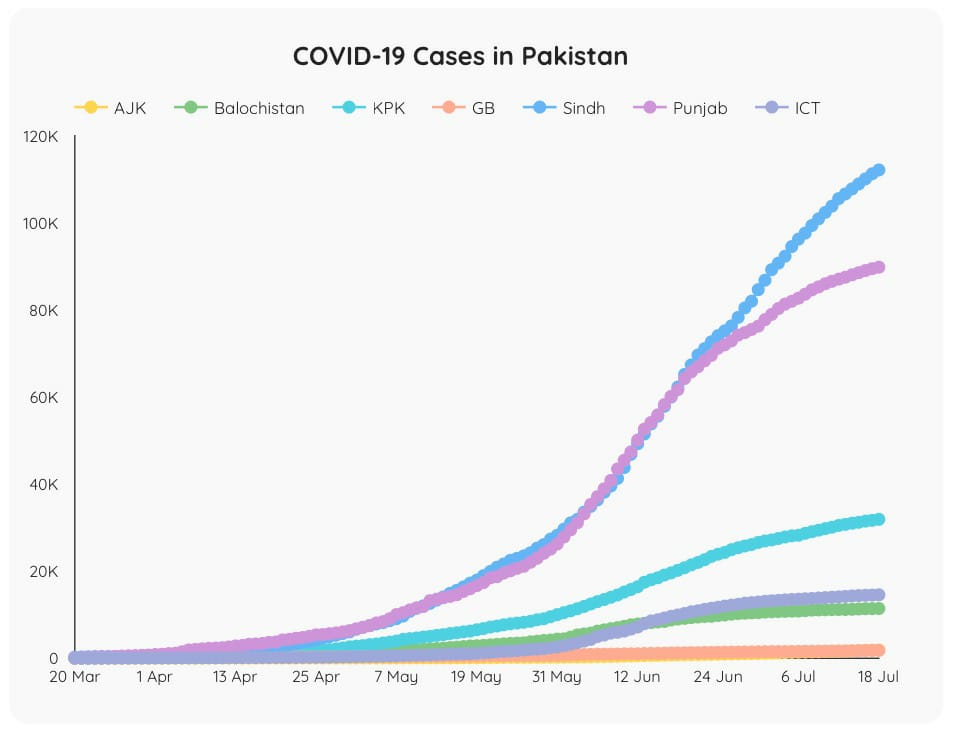 6) The initial wave was controlled when 3,000 pilgrims coming from Iran were quarantined in Taftan. Despite their protests they were contained for the greater good. If they had been allowed to enter the provinces then, the repercussions would've been out of our control.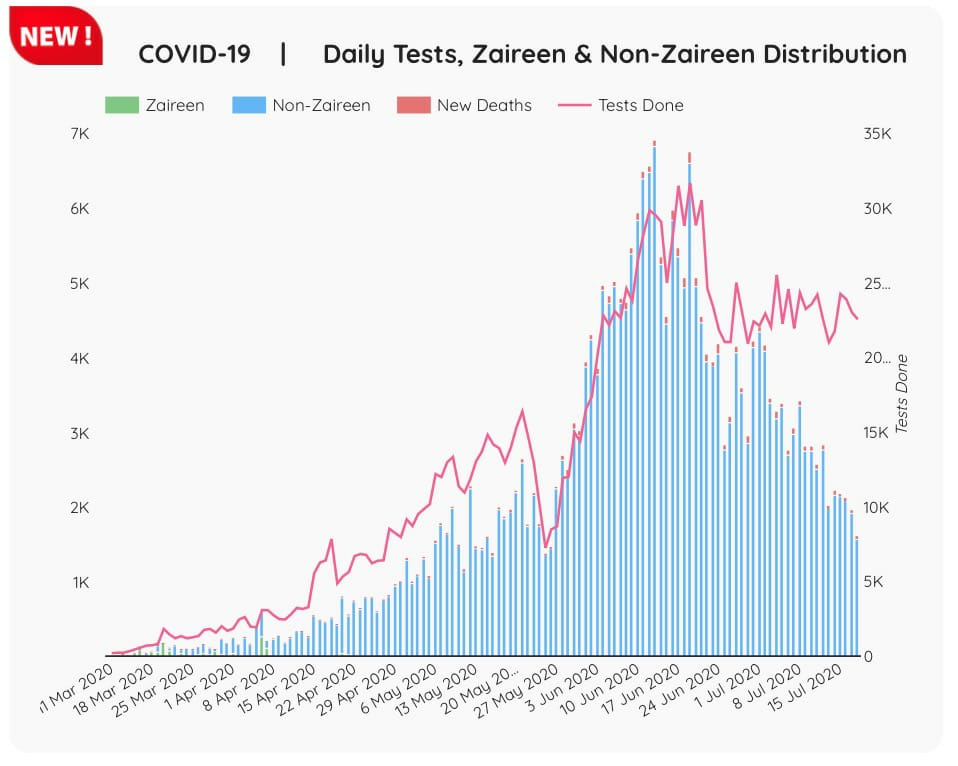 7) The NCOC was immediately setup under @Asad_Umar, which is where the strategy is centrally controlled from. Currently, we know the exact count of all medical equipment, hospital beds, PPEs, ventilators etc… because of the NCOC.
It also launched multiple IT initiatives…
8) NCOC launched a Resource Management System on 31 May 2020 (@NationalITBoard). It currently spans about 4000 COVID/non-COVID hospitals. It also energizes 'Pak Neghayban' app which provides location based guidance to nearest COVID hospitals.
9) Integrated Disease Information Management System (IDIMS) developed by National Emergency Operation Centre (NEOC) forms the national repository for all COVID related data.
Which means, it is integrated with all provincial systems for near 'real-time data exchange'.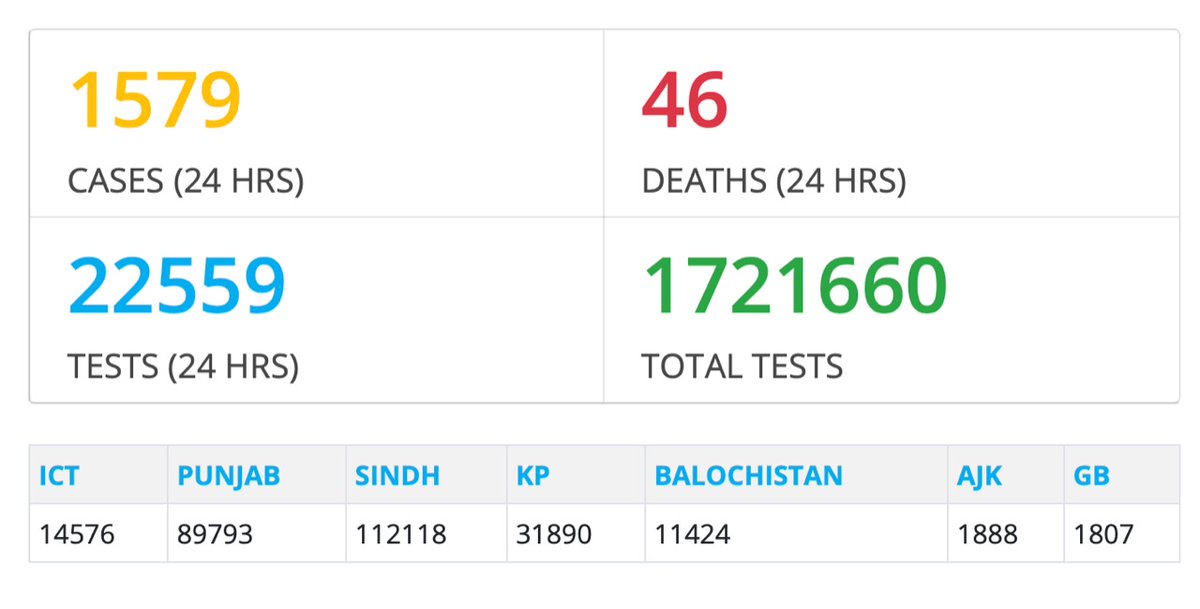 10) National Helpline -1166 & WhatsApp Chatbot (+92300 1111166) for Healthcare Workers generalized helpline accessibility for all.
Helpline is linked with NCOC and is handled by a complaint management team of NHSR&C. Another reflection of PM Imran Khan's transparency.
11) The COVID-19 Telehealth Portal allowed doctors to volunteer their time for a free consultation with patients.
Community mobilization through already established @RSPN_PK active in 66 districts, is undertaking various activities including awareness campaigns.
12) 'We CARE', is a national campaign for protecting and supporting our front line health workers. It aims at providing adequate PPEs, orienting them on using various PPE items as per international standards, and creating an overall psycho-social environment of care and support.
13) Imran Khan requested everyone to donate towards the PM's Relief Fund fund which will be used to take care of all those who have been made destitute by the lock down.
Funding for @Ehsaas_Pk has been increased to PKR 203 bn. where practically half the country will benefit.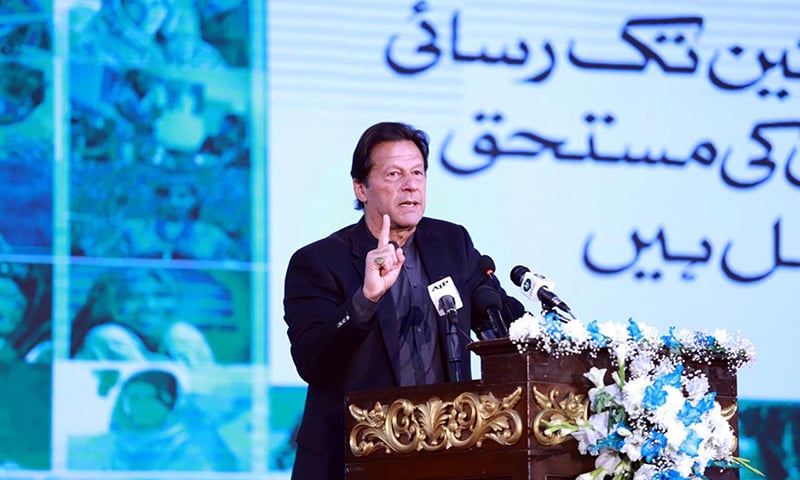 14) PM announced Ehsaas Cash Package of PKR 3 bn for 138,275 families living in 219 villages close to the LoC amidst COVID.
Women here would receive a monthly stipend of Rs 2k besides an emergency cash of Rs 12k.
16.9 million families will benefit nationally
15) Punjab cabinet took some important decisions like hiring of 10,000 health professionals, PKR 4 billion approved for health, PKR 2 billion released to PDMA, 8 labs to be upgraded to BSL-3, PKR 1 bn for Balochistan, early release of Baitul maal funds and zakat deduction.
16) Punjab released a financial package for front line workers (Healthcare Professionals, Police, Rescue 1122, Janitorial Staff etc) fighting COVID-19 (Bonus 1 Month Salary & Life Insurance of PKR 4-8 mil). The "CM Insaf Imdad Package" will provide PKR 4,000 to 2.5 mil families.
17) KPK too setup a helpline (1700) immediately, activated every fire brigade vehicle to be in coordination with Rescue 1122 in order to prevent spread of COVID-19 & disinfect all public places via special sprays and appointed 1299 medical officers on an emergency basis.
18) KPK has focused on increased testing since the start. The Taftan pilgrims were re-quarantined & 12,000 medical professionals applied for the KP LOCUM Scheme (for all health professionals), in just two days of its launch!
Their data-driven approach has proven to be prudent. @Jhagra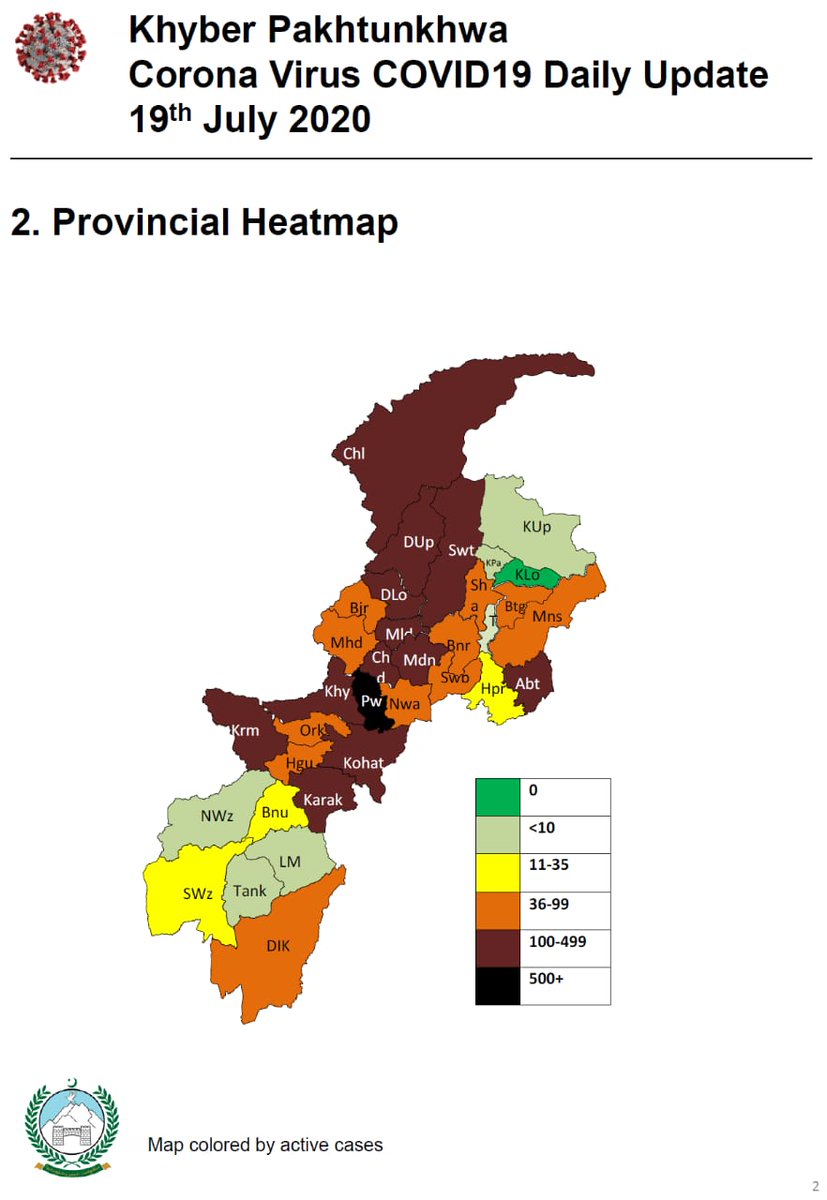 19) KPK's compassion is reflecting through the Shuhada Package for front line workers suffering from COVID, a record budget of PKR 124 bn across settled & merged districts and it will be the first province to offer Universal Health Insurance (Coverage of Rs. 1,000,000/family)!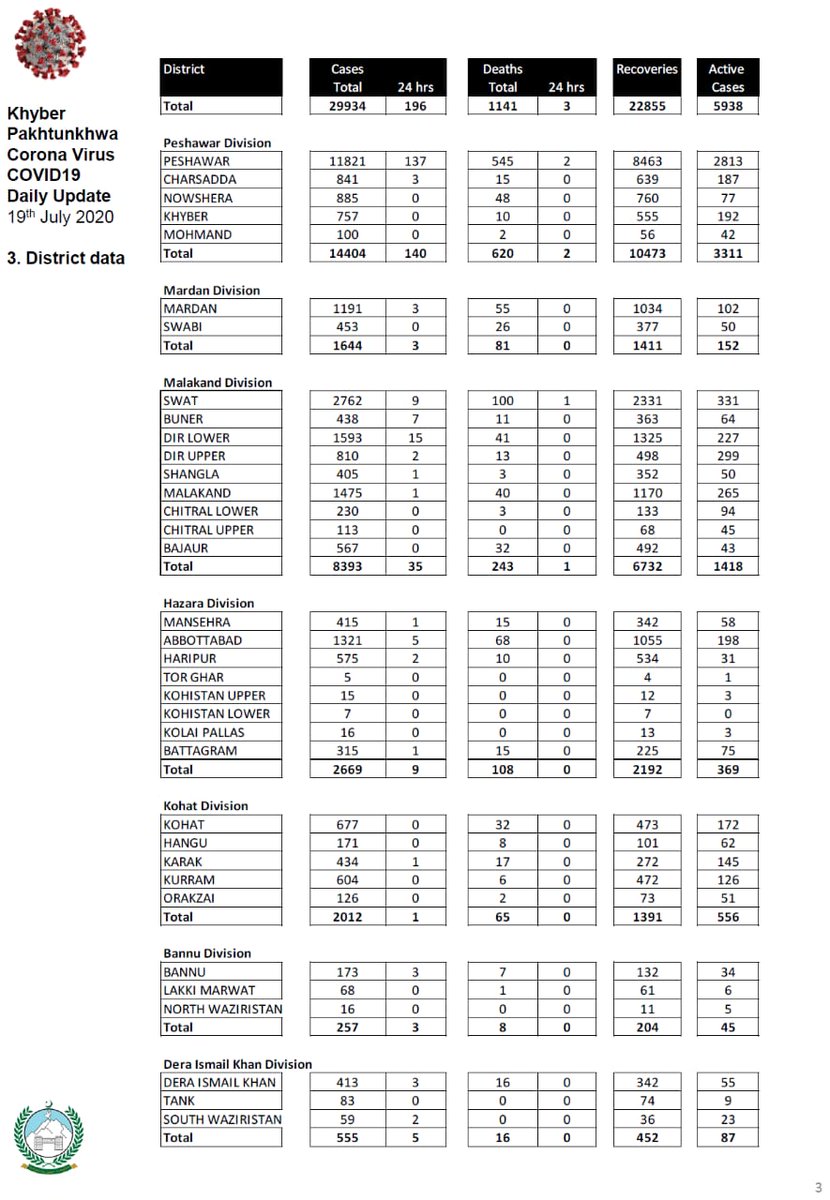 20) Sindh was one of the first provinces to go in a complete lock down. Sindh govt established a 'Corona Virus Relief Fund' with PKR 3 bn.
Additionally,@MuradAliShahPPP, provincial ministers, advisers, SAPMs and all PPP lawmakers contributed their one month salary to the fund.
21) Sindh also has a 24-hour active helpline (1021) and ambulance service for COVID patients. According to the provincial health department, a total of 22 private and public hospitals are treating COVID-19 patients.
22) Balochistan took the lead in putting the pilgrims under quarantine and enacting smart lock down across the province. @jam_kamal All provinces are ensuring social distancing, strict mask policy across all public places and offices to keep the economic activity afloat.
23) Pakistan's NGOs like @Akhuwat & @Alkhidmat have taken major social & financial responsibility of the needy. Akhuwat provided loans of over PKR 228 million, funded 18 hospitals etc.. & Al-Khidmat supported KPK by the way of 91 ambulances, 7000 workers and more.
@DrAmjadSaqib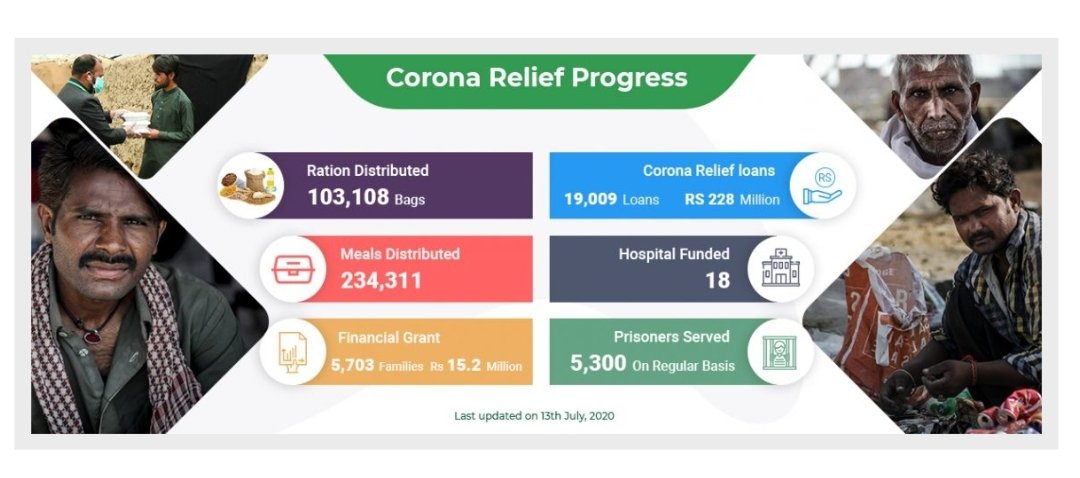 24) @SKMCH setup a COVID camp for triaging & initial assessment. They provided free tests for the deserving (along with other hospitals) & drive-thru testing.
@ChughtaiLab & SKMCH are working with FlyDubai & Emirates. @AKUGlobal additionally developed screening cells & an app.
25) China has helped immensely in this time of need. The newly inaugurated, 250 bed Isolation Hospital and Infections Treatment Centre (IHITC) in Islamabad would enhance the country's capability to combat COVID-19 and other infectious diseases. @zlj517
26) In March, PM Imran Khan unveiled a comprehensive relief package of PKR 1.2 trillion. The package covers laborers, families, medical staff, export industry & SMEs. It also offers relief on oil prices, gas & electricity bills, reduced taxes on food.
27) Unlike PM Imran Khan, India didn't take the pain of a common man since the first day of the lock down. Their lack of seriousness has taken the cases to a MILLION. Since June 1, cases per day have multiplied from 8,100 to 32,000+, for which Modi had to apologize publicly.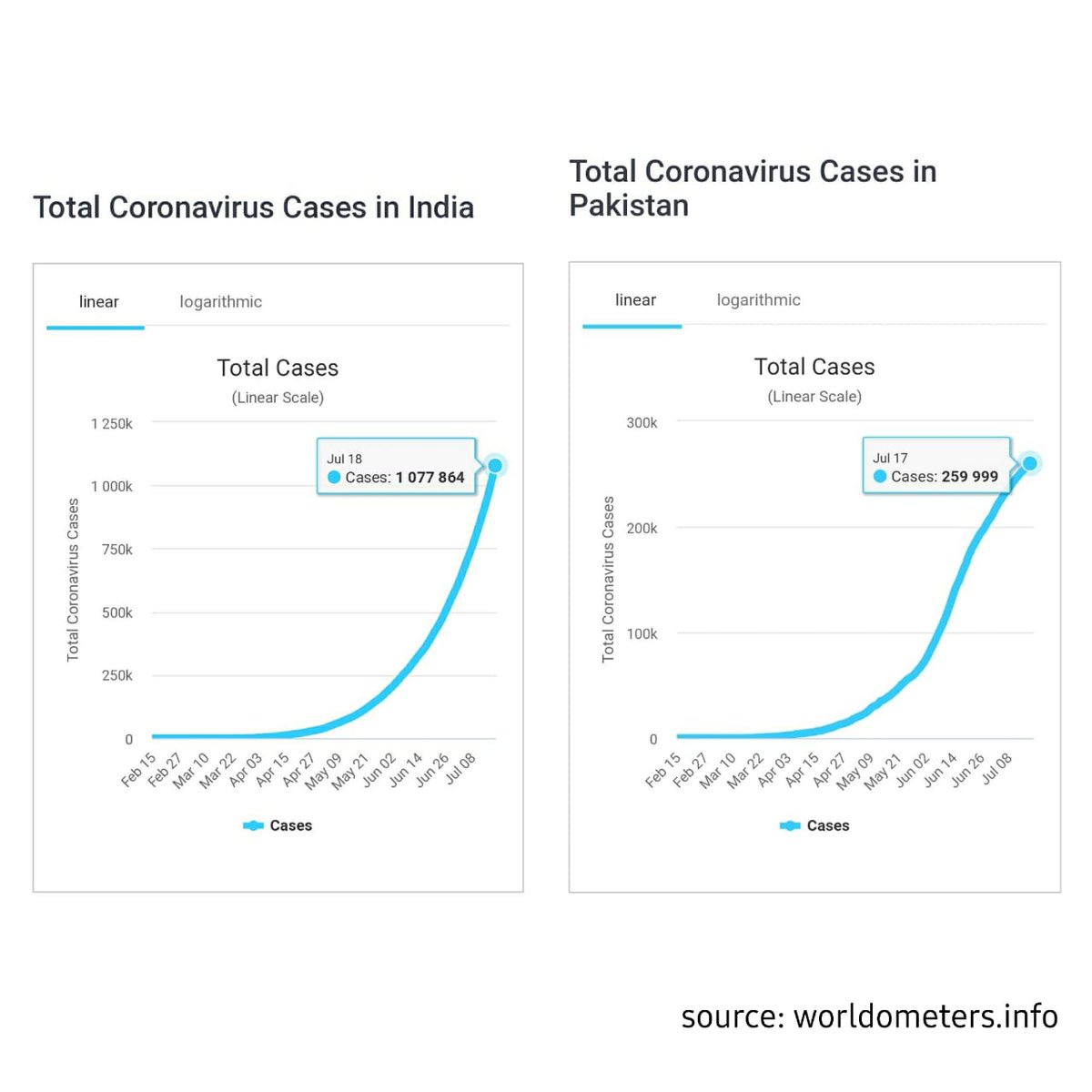 28) USA is now reporting 80,000 cases/day. A Columbia University research estimates that around 83% of deaths could have been avoided if measures were taken 2 weeks earlier. Despite their economic standing, the govt could not respond with the compassion their citizens deserved.
29) According to WHO, Pakistan has 9.8 doctors and 6.68 nursing staff for every 10,000 people and 46% people don't have access to water & soap at home. Despite this, the curve is flattening in Pakistan due to PM Imran Khan's leadership. For him, people always come first!
30) PM Imran Khan took a stance for the nation at a time no one was supporting him. It is now our responsibility to restrain ourselves, especially on Eid-ul-Azha. If we are able to do this, we'll surely be on our way to a recovery,
Originally tweeted by NABEELAQ (@nabeelaq) on July 20, 2020.