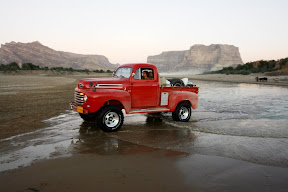 A few weeks back in the middle of January I went on an off-road adventure trip to Goran Gatti one of the highest mountain deep within the Hingol National Park. It was a four day trip filled with adventure fun and excitement. The group had over 13 tough off road vehicles with over 35 people entourage our attempt was to reach the Goran Gatti mountain an elevation of 1045m but sadly fell 10 km short of the destination, it is rumored that no vehicle has ever made it there, and for better or for worse we could not reach the mountain as well. We hope to re-attempt this sometime in the future.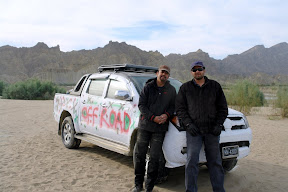 The highlight of the trip was the refurbished Red Ford F1 truck which was truly fascinating on the rugged terrain, this car has a long story behind it, took over three years into finishing but it was well worth the wait, read the entire story by Hamid Omar here on offroadpakistan.com.
I honestly believe it is very difficult to recapitulate the exciting event in words but if you were to take a taste of the adventure then do probe around the tons of stunning pictures which we took in the four days. it is possible that you might actually re-live the excitement with us. One thing is for sure, Pakistan is breathtakingly beautiful, and nothing in this entire world can beat the beauty of the hundreds of acres of untouched & unexplored regions of Pakistan.

The Goran Gatti Trip 2008 – Line Up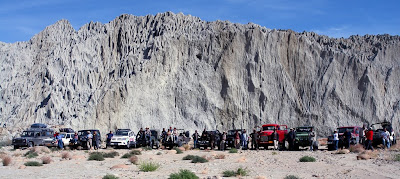 It seems the excitement never ends as these off-roaders are preparing for yet another trip this time it is to Jahu Jahl, located in the Northern areas of the Hingol National Park where we have plans to set up a Medical Relief Camp to attend to over 300 villagers who have no medical facilities nearby. A four day trip starting on the 14th of March, we are on the look out for medical GP's who might be interested in taking part in this noble cause and wrap it up with some off-road excitement. If you are up for the challenge do write in.
Rev your engines…… Baluchistan, here we come
PS: Yes that white spray painted Hilux Vigo is my off-road vehicle which has been guilty of being stuck in a few 'sticky' situations throughout the trip …. LOL, I stand guilty as charged, but heck it was fun, it was also an excuse to be photographed (-ha-)